Stop Manatee Harassment At Three Sisters Springs! - Save the Manatee Club
On a cold winter morning at Three Sisters Springs, snorkelers and swimmers compete for space with endangered manatees who need the warm spring waters for survival...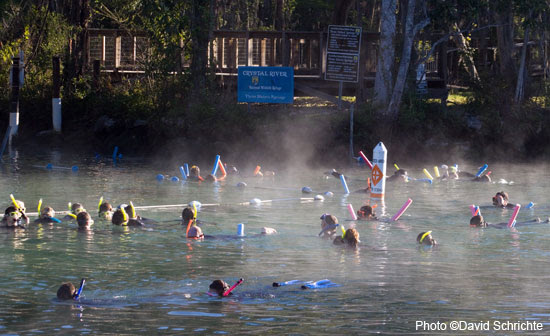 Each winter, endangered manatees travel to the warm waters of Three Sisters Springs, a less than 1-acre critical winter habitat in Florida that they need for their survival. Upon their arrival, the manatees are met by scores of swimmers who all too often reduce the manatees' ability to rest undisturbed as they seek shelter from the cold. Please note that there are more than 600 other acres in Kings Bay where people can still swim around manatees with much less chance of harming them.

We know it's a busy time of the year, but if you haven't done so already, please take just a couple of minutes to send a quick message to the U.S. Fish and Wildlife Service by
December 18th
and help stop harassment of endangered manatees at Three Sisters Springs.